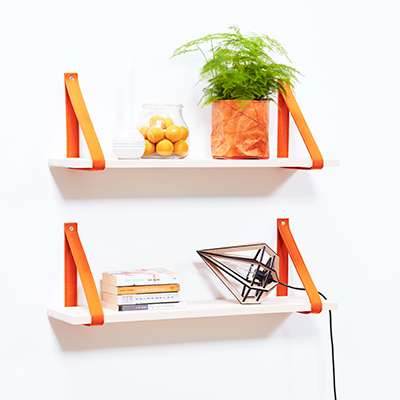 WOW shelf and shelf brackets
WOW shelf is made of untreated wood, where you can choose which wood you prefer for your shelf to be in. We have also chosen to have treated ash as we have betrayed to have a darker shade but the natural pattern of the tree is still visible . The shelves are available in ash, oak, beech and MDF (Medium Density Fiberboard). Treated ashes, untreated ash and oak are also available in two different sizes. By making the shelf more personal you can buy shelf consoles where you can choose from a variety of colors. The consoles are made of merino wool and polyester for added stability.
Small shelves
Length x Width x Height: 58x2x15 cm
Medium shelves
Length x Width x Height: 78x2x20 cm
Material: Ash, birch, oak and MDF
Small shelf console
Length x Width: 58x3,5 cm
Medium shelf console
Length x Width: 77x3,5 cm
Material: 100% Merino wool and polyester
Color brackets: Black, Cerise, Turquoise, Green, Gray, White, Red, Blue and Pink
Max weight: 15kg
Installation instructions and screws are included.